Fit As A Mother
Training moms through their pregnancies, postpartum recoveries, and motherhood journeys.
TWO WAYS TO JOIN THE FAM
Become a Subscriber

Sign up for our Fittest Core subscription and get access to all programs, weekly workouts and more!

One-Time Program Purchase

Just want to purchase a specific program? No problem! You can purchase any program and have lifetime access to it.
FITTEST CORE
Meet Your New BFF
With various programs and Macy's thorough follow along videos, you'll feel like you're working out with your best friend.
GET STARTED
FAQs
Is it a one time payment to get access for the workout videos?

You have two options: Subscribe to More With Fittest Core and pay either monthly or annually for unlimited access to all programs and the entire follow-along workout gallery. Or pay a one-time payment for a program and have lifetime access to it.
How long do I have access to a program?

With the purchase of a program, you'll have access to it forever!
Are your programs included in subscription?

Every single one! Old and new ones. Subscribers also get first access to new programs.
How long are the Booty After Baby workouts?

Workouts vary in length, but are an average of 35 minutes. I try to keep them as short as possible because I know firsthand that moms only have so much time during the day to get it in! 
Not yet pregnant, but hoping to be? What program for me?

For women that are TTC/not pregnant but hoping to be soon, I always suggest subscribing to More With Fittest Core. With subscription, it sets you up perfectly to have access to all the tools to train during each stage of life. So currently, you'd follow the weekly workouts sent out which is a full Body schedule focused on strength. Then once you get pregnant, you'd have access to Training For Motherhood. Then during postpartum you'd have access to my Core & Pelvic Floor Restore and Booty After Baby. So it's the best way to be able to prepare and be ready for each stage!
ABOUT
Meet Macy
Macy lives in Nashville with her husband and two boys. Her passion for fitness and for people led her to pursuing a career in personal training. Macy became a personal trainer a decade ago, with certifications in personal training (AFAA) and pre & postnatal training (AFPA). She has since created her company, Fittest Core, with a mission to help women feel empowered to safely and confidently move their bodies through all stages of motherhood.
LEARN MORE
What My Clients Are Saying...
"I've been a subscriber for a while but I just now started regularly going to the gym and using your app for every workout. When I started my goal wasn't to lose weight. I just wanted to feel strong and healthy again. When I went to my November checkup the doctor told me my blood pressure was still high (I had preeclampsia while pregnant) and that I might have to go back on medicine. Ever since I've been working out my blood pressure has been normal! Thank you for making me actually like working out and wanting to keep up with it. The best personal trainer! I feel so strong and healthy thanks to you."
"For anyone with questions about subscription options who want the opinion of a subscriber: Don't question it or risk dropping it- just go all in for the annual! You save money and the subscription is faithfully there gently, yet enthusiastically, encouraging you to come back when you've been in a spotty workout season. I feel like all the things were happening from August through December to break my routine, but I missed moving my body and knew I could log on anywhere, anytime and do SOMETHING that fit into my schedule (even if I only had 10 minutes) and would make me feel healthy, strong, beautiful, and prepared for the next crazy life stuff on my plate. And now I'm back at it with my workouts planned out into March as I go through FBP and Christmas Abs (because they're not just for Christmas!). And I love knowing that I have access to things like the Fittest Bump for the future!"
"I am loving trimester 1 so far! I did Fittest Bump during my last pregnancy and seriously was obsessed and recommended it to all of my friends after, but the follow along videos and all of the information in Training for Motherhood is amazing! Everything feels so intentional and I love everything being in one program. I can't wait to start trimester 2!"
"When I first started this program I couldn't do the reverse plank with knee tucks (actually, I couldn't even hold a reverse plank), and yesterday I did the full workout with you! It was so cool to see my growth in just one month. I felt so much stronger! Big wins, thank you!"
"I'm a subscriber doing Full Body Power and I LOVE it! I can't believe I've done 33 workouts so far and every single one has been amazing! I truly feel stronger. This series has been exactly what I needed 12 months post partum with my second. Thank you for everything you do. I love the workouts, energy and personality you bring. As a fellow Nashville girl, it feels like 'm working out with a friend. I could keep going, but thank you again!"
"Just wanted to reach out to say how thankful I am that I found you and your programs! I just gave birth to my first babe and the midwives were impressed with how efficient my labor progress was and how strong I was throughout labor. I can't wait to start Booty After Baby!"
"Your program kept me on my feet during pregnancy and allowed me to keep up with my toddler. There are no words that can really express how much I appreciate this and I know it's because of your program. With my first pregnancy I really struggled with joint pain and wasn't able to be active. Starting your program first trimester prepared my body and helped me stay pain free this pregnancy! Also, my labor and delivery was so smooth this time and a big reason is because of this program!"
"I'm 8 days postpartum and started Core Restore today. I had to laugh because my set-up was like yours, down to the baby on the couch and breastfeeding cart! I am already seeing how that foundational work is paying off in my early c-section recovery. Thank you for helping to set my body up for success to heal and regain strength in this season!"
"Your Core and Pelvic Floor Restore program helped me mentally so much in the early weeks where I couldn't do much movement and now I feel confident getting back into working out! Thank you so much!"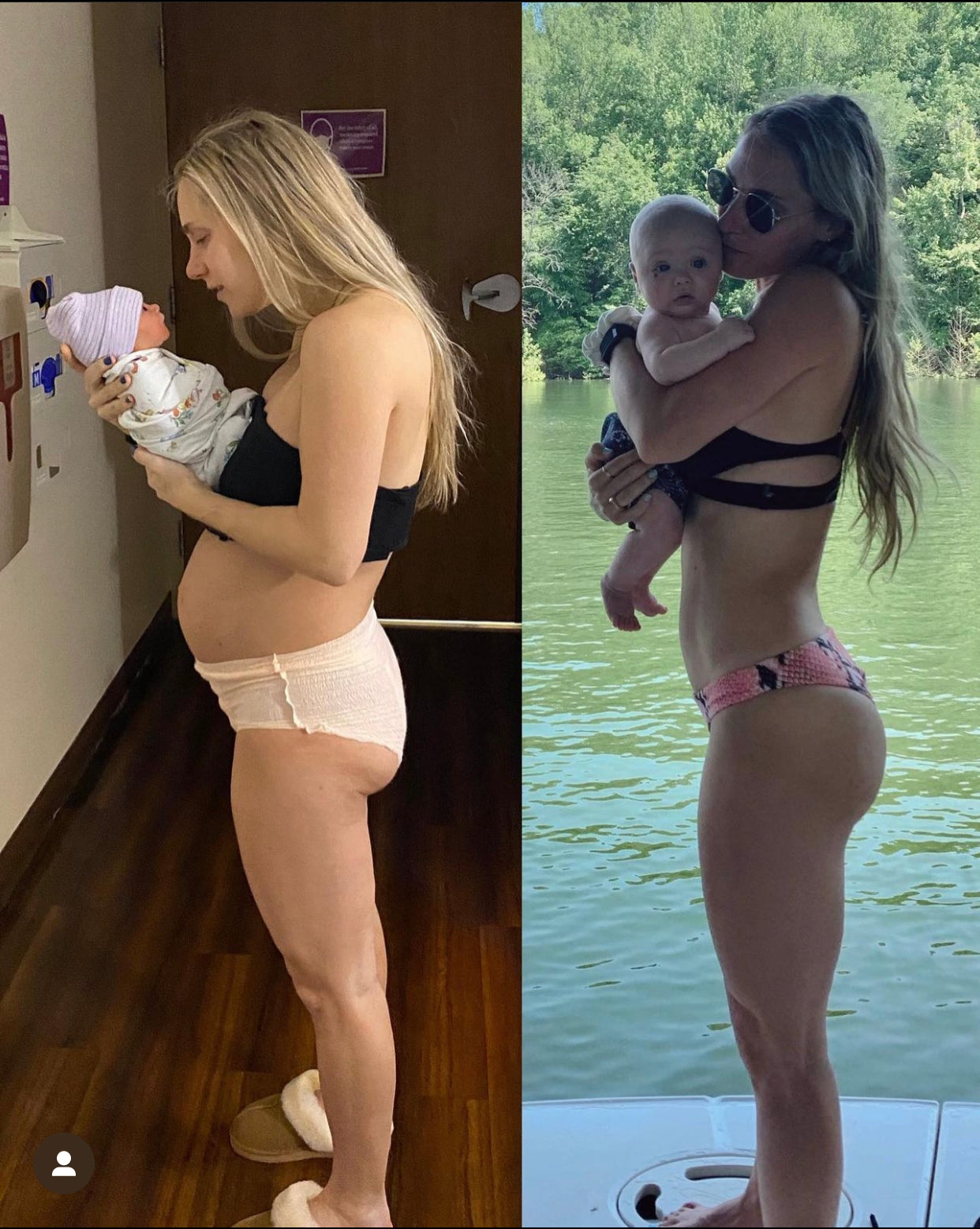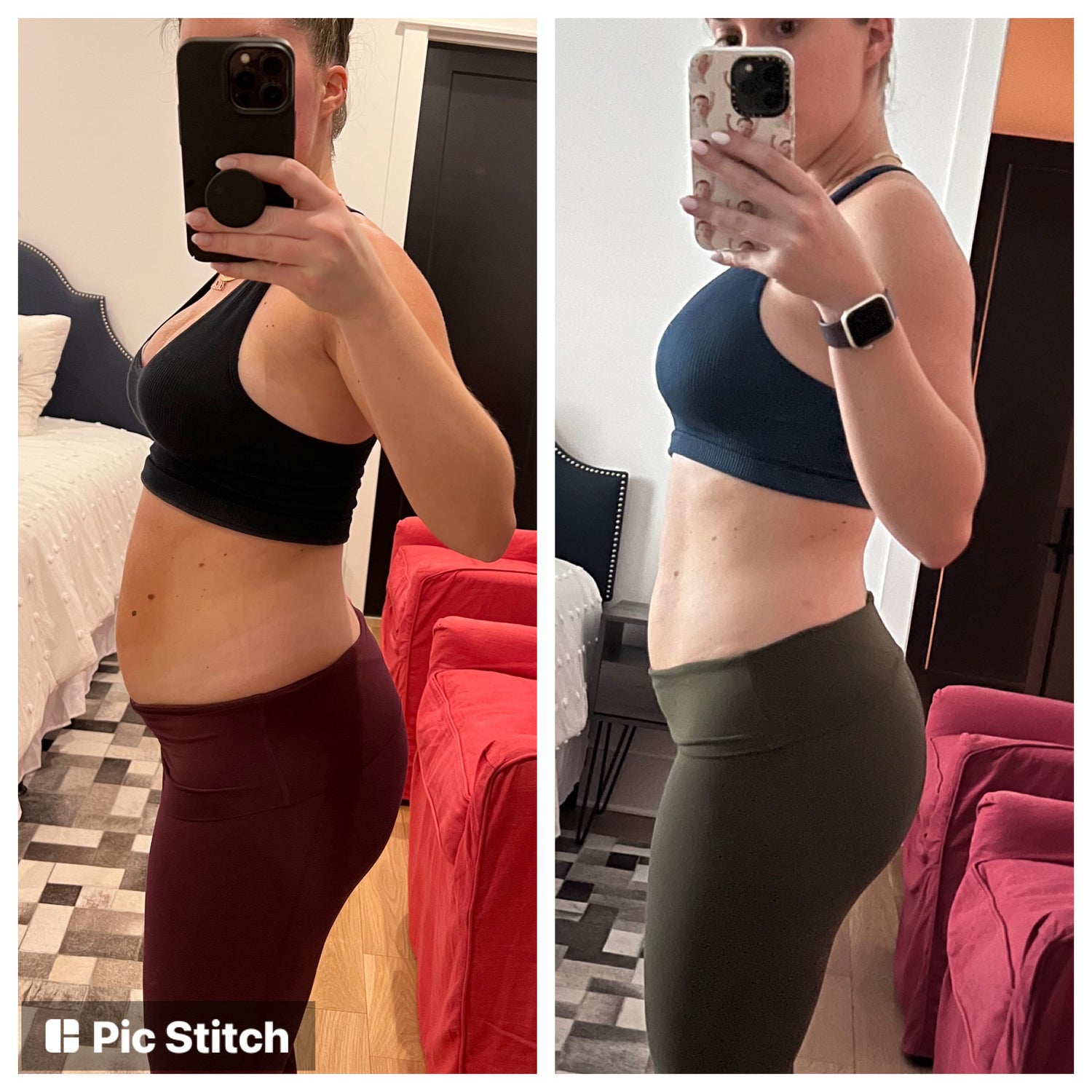 Before and After's
No matter where you are in your motherhood or fitness journey, my programs can help make you feel strong and confident!
See More